2018 - 2019 Juneau Season
by Carl Sternheim – Adaptation by Steve Martin
MAY 17 – JUN 16, 2019
In Steve Martin's uproarious tale, a beautiful young woman attending a royal parade finds that her bloomers have fallen down around her ankles. Ooops! She is sure no one noticed, but her modest husband is mortified and rushes off to assess the level of gossip. Boarders, nosy neighbors, and sudden new suitors fill the script gleefully adapted from Carl Steinheim's 1910 German Farce, Die Hose. This bawdy comedy of manners finds crazy humor in the gender politics that are still relevant after more than 100 years.
Relatable: If you liked In the Next Room, or the vibrator play; Boeing Boeing, or The Odd Couple, you'll love Steve Martin's The Underpants.
Past Performances This Season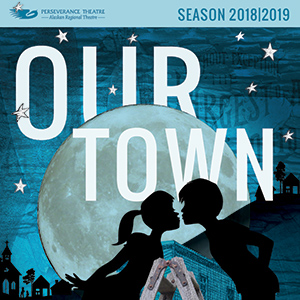 by Thornton Wilder
OCT 5 – NOV 3, 2018
Welcome to Our Town, the award-winning play that has drawn in audiences for eighty years. Our Town embraces the layers it takes to build the communities that sustain us. Set in every small town of your imagination and memory, Thornton Wilder's spare classic captures the depth of humanity through careful attention to everyday happenings—but as performed by Perseverance Theatre's dynamic Alaskan cast, led by Irene Bedard (Inupiaq/Yupik/Métis Cree) as the Stage Manager, this production will be anything but ordinary.
Relatable: If you liked Of Mice and Men, To Kill a Mockingbird, or Cat on a Hot Tin Roof, you'll love Our Town.
by Samantha Noble
NOV 30 – DEC 16, 2018
A ghost story from the far north unfolds in this world-premiere drama anchored in two eras on the same unforgiving seas. Follow the infamous lost Franklin expedition of 1845, then meet a modern-day crew of graduate students on their last-ditch voyage to find Franklin's ship. A singer-songwriter with deep ties to the Arctic and its people strums her way onto the research vessel and into the lives of the scientists, upturning everything. In this layered mystery, will a chord change or a change of direction be the source of the answers?
Relatable: If you liked The Blue Bear, An Illiad, or The Arsonists, you'll love Franklin.
by Cathy Tagnak Rexford
FEB 1 – FEB 23, 2019
Soon after a baby is born in a small Arctic village, her parents learn she has an unusual destiny: In order to restore nature's delicate balance, she will train her whole life for the honor of someday marrying a bowhead whale, leaving humanity and spending her adult life with her new mate. Torn between teenage rebellion, young love, and her innate desire to fulfill her prophecy, she is witness to the near-end of a species and the heartbreak that often comes with doing the right thing. Whale Song is a world premiere by Perseverance Theatre Playwright's Circle member Cathy Tagnak Rexford (Inupiaq).
Relatable: If you love compelling stories with deep meaning like Hold These Truths, An Iliad, or They Don't Talk Back, you'll love Whalesong.
Music and Lyrics by Frank Loesser – Book by Jo Swerling and Abe Burrows
MAR 15 – APR 14, 2019
For some guys, life is a gamble—every day another throw of the dice. New York hustler Sky Masterson seems to be on a roll, but in the game of romance, his luck is about to run out. Will he beat the odds and get the girl, or come up snake-eyes? Perseverance Theatre's musical dream team and an all-star cast will captivate you with their intimate staging of this brash Broadway favorite! Based on the street-wise stories of Damon Runyon and featuring all those Frank Loesser songs you love to tap your toes to, Guys and Dolls is a sure thing.
Relatable: If you liked Chicago, Sweeney Todd, or Oklahoma, you'll love Guys and Dolls.